ESCAPE THE GREEN ROOM
60 seconds. Live or die. Your choice.
Play the game and experience the "Jaw-dropping" Green Room, starring Patrick Stewart, before it hits cinemas on Friday 13 May!
Can you escape the Green Room? To support the release of the upcoming exhilarating powerhouse GREEN ROOM, coming to UK and Irish cinemas Friday 13th May, Altitude Film Distribution and Picturehouse Entertainment are pleased to present a brand new bespoke and fully-immersive game.
Escape the Green Room brings the horror of the film to life through a 'Choose Your Own Adventure' style game – all the thrills and chills the film has to offer right in front of you.
The highly anticipated film which features a gripping ensemble performance from Patrick Stewart, Anton Yelchin, Imogen Poots, Alia Shawkat, Joe Cole, Macon Blair and Callum Turner, centres around the down-on-their-luck punk rockers The Ain't Rights, who agree to a last-minute gig in a backwoods Oregon roadhouse. The gig soon takes a sinister turn as the band members stumble upon a grisly murder scene and find themselves targeted by a ruthless club owner and his associates, determined to eliminate all witnesses.
Will you and your friends survive and Escape the Green Room? Find out at the following link to the micro site which is live as of now! Let us know how you get on via Twitter (@GreenRoomFilm)
Green Room comes to UK and Irish Cinemas Friday 13th May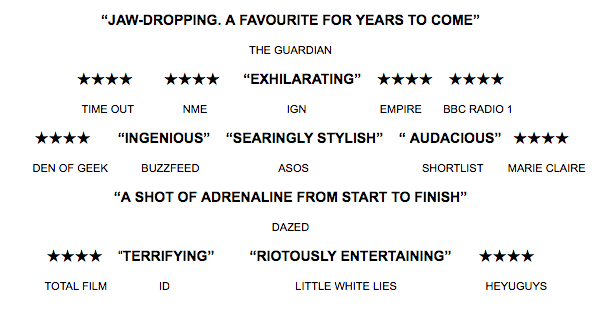 #GreenRoom